Options for Women Menomonie
Welcome! Here is our Options for Women Menomonie FAQs page. This list includes some of our most asked questions about donations and volunteering. Check out the list here:
1. Are donations tax-deductible?

Yes!
As a 501c3 non-profit, all donations given to Options for Women Menomonie are tax deductible. If asked, our center can give you a receipt with your donations. However, we always encourage you to check with an accountant first to make sure your donation can be written off as tax-free.
2. Do you receive government funding?
No.
Our entire operating budget for our center is privately funded. We do not use any federal or state grant money. Instead, we depend on donations from individuals, groups, and churches that believe what we are doing is important to our community. We have people who support us annually, monthly, one-time, or through fundraisers. We're always looking for more people to invest in the lives of the women and families who come to our centers looking for help.
3. Do you take used donations?

Sometimes. We want all the items we offer to the women in our facility to be the best quality possible. For that reason, we do not accept items that aren't excellent quality. Gently used items such as clothes, cribs, and books make wonderful donations. For the safety of our clients and their children, we do not accept these used items:
Used breast pumps

Diaper pails

Stuffed animals

Crib bumpers

Used shoes

Used bottles or pacifiers

Walkers with wheels

Items that are expired or overly worn or in ill repair
4. Which item do you need the most?

Our number one needed item is diapers. Mothers go through this faster than almost anything else. All sizes are useful, including the larger sizes 3, 4, 5 or 6. We hand these out regularly to moms in our programs. Your help matters more than you know!
Formula (Gerber is most requested brand)

Wipes

New and gently used baby clothes up to size 2T

Furnishings such as crib, carseat, stroller, high chair

Baby toiletries such as wash, shampoo, lotion

Bottles and pacifiers

Small toys (like rattles or teething rings)

Bibs, socks, booties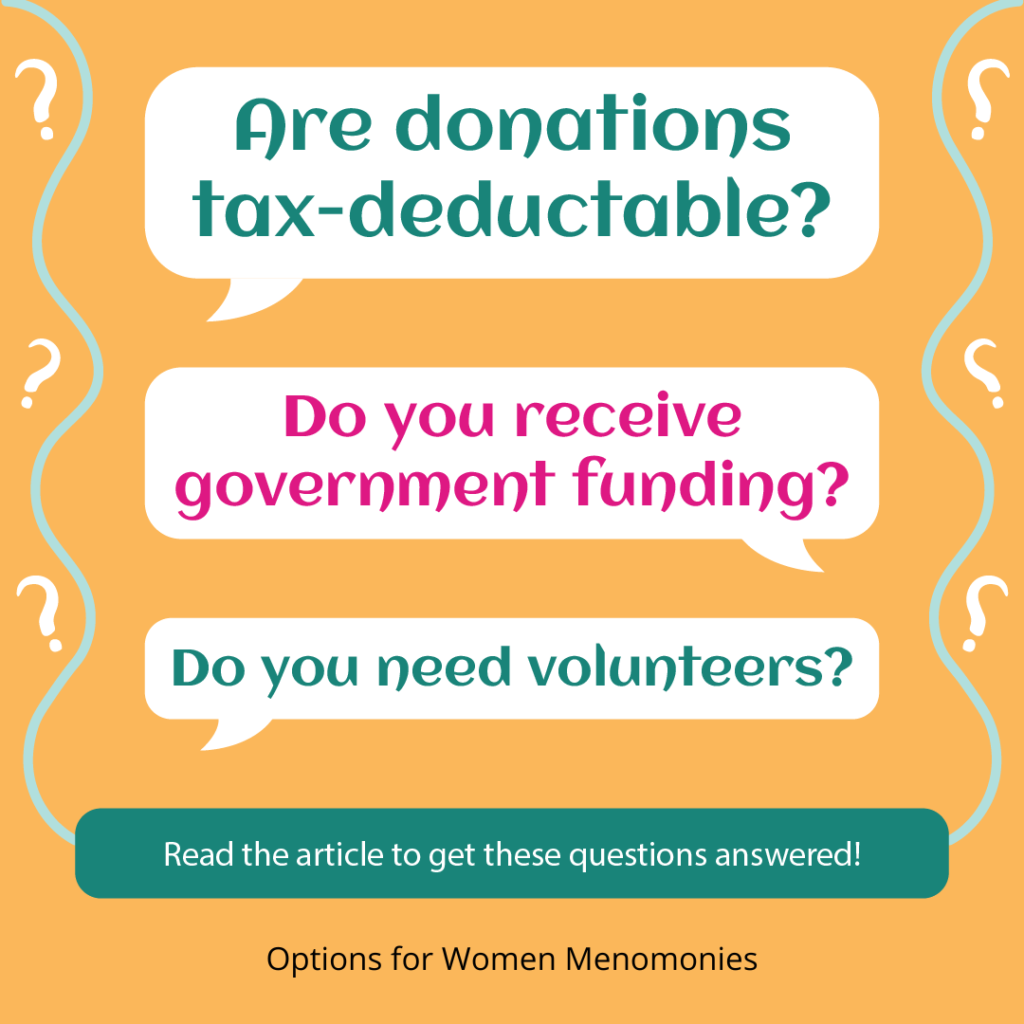 5. Where can I give money?



Online
You can (click the link below/click the link here) to make an online donation to Options for Women Menomonie. Simply enter your card information and the amount you want to give. Whether it is a one-time gift or monthly support, you are making an eternal difference in the lives of pregnant couples right here in our community.
In-person
You can come to our main location at ADDRESS to hand-deliver a cash or check donation. We also accept credit card donations!
6. Do you need volunteers?

Yes, like we need oxygen! Volunteers breathe life into our organization! There are tons of you can help at Options for Women Menomonie For those who wish to work with clients, there is an application process. We want to assure that the women who come to us feel they are in a safe, welcoming environment, including with the staff. If you'd rather work behind the scenes, we have opportunities all the time at our center. Whether it be cleaning, collecting donations, delivering diapers and more, there is a place for you to plug in at Options for Women Menomonie.
Not sure if being a volunteer is right for you? Check out our article on volunteering for stories from a real PRC volunteer and to learn more about the benefits – for the community and you!
7. How can I pray for you?
If you do not have the resources or time to come physically volunteer with us, don't worry! Prayer is our biggest support in all of this. If you would like to start praying for us, here are a couple of things that you can pray for:

The clients who enter our building

Our staff

Our donors

More volunteers and support

Donations to continue and increase

The future impact of Options for Women Menomonie on the community

Those who work in the abortion industry

Our building

That God is glorified through our work
8. Where can I ask a question that's not answered by the Options for Women Menomonie
?

If you have any more questions about Options for Women Menomonie, contact us at 715-309–4222, or visit the contact page on our website at friendsofwmenomonie.org.